Why Israel is leading in cybersecurity
---
To say that Israel is the world's cybersecurity powerhouse is a dramatic understatement. More than power, Israel is the incomparable leader when it comes to cybersecurity, collaborating with other nations, big and small, to advance the world of online security as we know it. Not only is this country responsible for helping to create hundreds of cybersecurity startups, but they have managed to export an impressive amount of cybersecurity-related products (to the tune of $6.5 billion each year). And the world is taking notice.
Israel has no problem attracting foreign investors to help start local cybersecurity research and development centers because no other country even comes close. Despite its being small country, Israel leads the world in cybersecurity for several reasons, including the intense involvement of the nation's government. A big believer in the power of collaboration, Israel's cybersecurity industry works closely with the government, universities, and businesses in order to advance and innovate the field.
In Israel, there is a dedicated elite cybersecurity training department within the Israeli Defense Force known as the 8200 Unit. This unit not only develops some of the world's best cybersecurity talent, but it also has taken credit for stopping ISIS air attacks agains foreign countries. By recruiting eighteen-year-old Israelis who demonstrate excellent language and computer skills, the unit offers three years of advanced, real-world training that requires individuals to solve problems quickly, efficiently, and creatively. During their time in the 8200 unit, trainees work together as teams to overcome failure and to change the way cybersecurity works. And, seeing how quickly the world of technology changes, it only makes sense that such in-depth, real-world training is producing some of the top cybersecurity experts in the world.
With over 400 cybersecurity companies in Israel, many of which are started by graduates of the 8200 unit, the entire world is looking to them for solutions to some of the biggest problems facing modern inventions, including self-driving cars and internet security.
Recognizing the opportunity for national growth, Israel has gone a step further than just investing in individuals once they enter the Israeli Defense Force; they are actually the only country in the world to offer cybersecurity classes as electives in high school. And, following suit, Israel is the very first country in the entire world to provide courses that lead to a PhD in cybersecurity. As such, you'll find six separate university research centers dedicated solely to advancing cybersecurity throughout Israel.
Video: How Israel's Turning Soldiers Into Entrepreneurs (Bloomberg YouTube)
Taking a Closer Look at the Government's Role
In Israel, the government acts as a coordinator to the advancement of cybersecurity. Netanyahu, the nation's Prime Minister, recognizes how quickly the world of technology advances, which is why he's providing ample resources to make sure Israel stays ahead of the curve. What would normally be considered a short amount of time in the business world (three to five years), is "generations" in the world of technology. And, if cybersecurity doesn't keep up, then it's inevitable that potential threats will become very real and potentially devastating attacks.
Working closely with an Israeli cybersecurity expert, Professor Ben-Israel, Prime Minister Netanyahu has helped to develop an "ecosystem that will know what to do when these unpredicted threats come". Known as the National Cyber Initiative, it is one of the world's top cybersecurity programs - and the results are exceeding expectations. Additionally, Ben-Israel helped to develop the National Cyber Bureau in 2011. This bureau is committed to "placing Israel among the top five countries leading in the field (of cybersecurity) within a relatively short number of years". Of course, in order to achieve this goal, the ecosystem created needs to continue functioning at its highest level. To do this, the government in Israel has arranged constant collaboration between itself, its military, businesses, and universities. The government, which plays an advisory role, recognizes that it's doing its part not just for its country, but for the entire world, seeing that there are "no national borders" in the world of cybersecurity.
Of course, this relationship between business and government is never an easy one to navigate, especially in liberal democracies like Israel. But, despite the challenges, Israel is finding ways to support innovative cybersecurity startups as well as cutting-edge research to make sure that tech advancements never surpass the security measures that can be put in place. One of the things that is helping Israel maintain this healthy collaborative ecosystem is its National Cyber Security Authority program, which was established in 2015. This program is helping to relieve tensions between private and public entities, making sure the government continues to operate as coordinator, but without overstepping into the realm of private and individual business decisions.
By recognizing that cybersecurity is an "economic growth engine" for the country, Israel has given itself a huge competitive advantage over the rest of the world. Not only is it invested in cutting-edge research, but it is creating opportunities for future generations to gain practical experience, the type that can be used when innovating the world's best cybersecurity programs. And, as an added bonus, Israel recognizes that by contributing major advancements in the world of cybersecurity, it is positioning itself firmly in good standing with many of the top nations around the world.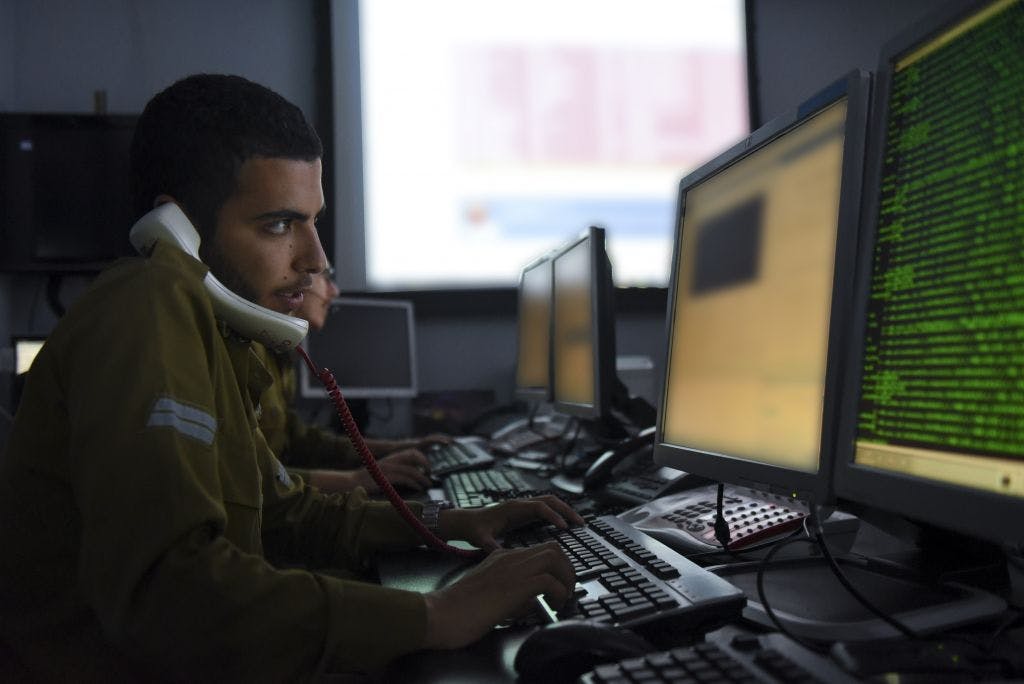 Image: IDF Soldier from the C4I Corps types on a computer.(IDF Spokesperson's Unit)
The Importance of Real World Experience with the Israeli Military
Israel's military is known for being one of the best (if not the best) in the entire world. But, it does more than just keep its citizens safe. The Israeli military's training, especially in the realm of technology and security, is proving to be a powerful incubator for startups, accelerating success faster than many other dedicated business programs. Despite what could be considered "meager resources", Israel always manages to maintain superior military capabilities. And, when computers and other technology entered the picture, Israel stepped up to make sure they retained their position at the top. Always striving to be the best, it makes sense that some of the world's best cyber defense strategies and tactics are developed within the Israeli military.
Its dedicated 8200 unit gathers intelligence and provides real-world cybersecurity practice, making it quite possibly the world's best training grounds for future entrepreneurs and business owners. While sometimes viewed as a waste of time, today's smartest and most determined in Israel recognize the hidden potential of serving in the military. Programs like the 8200 unit have unintentionally turned into a catalyst for the country's entire economy, offering the experience individuals need to out-compete on a global level.
After serving in the 8200 unit or other programs within Israel Defense Forces, individuals have gained irreplaceable experience knowledge, including how to collaborate on a team and act as a leader. Unlike college programs, where some students feel only responsible for their grades or marks, service in the military thrusts responsibility onto the shoulders of young men and women, teaching them how to survive failure and make big decisions quickly. And, if individuals decide to postpone their business ventures post-military life, Israel Defense Forces will actually fund their PhD studies, which means even more advancement in cybersecurity knowledge is possible.
Recognizing Everyone's Potential
Israel is a diverse country, and it prides itself on that. One of the reasons cybersecurity has become so successful in Israel is precisely because people are valued for what they bring to their table, including their unique skillset, their experience, and, maybe most importantly, their individual ambitions. People in Israel are rewarded for their creativity, which means that characteristics like improvisation, innovation, and initiative are natural side effects.
In Israel, people are put into environments where they are expected to thrive, rather than forcing people to try to get good at something that just doesn't come naturally. This different approach to academics carries on throughout the government and in private business, resulting in confident people who are passionate about (and naturally talented at) what they do.
Understanding the potential of people and the potential of cybersecurity, Israel starts educating children in tech security in middle and high school, offering electives to students who are interested in learning more. Additionally, you'll find that the Israeli government funds specific programs that help talented youth receive specialized training in tech niches, including cybersecurity, both before they serve in the military and while they actively serve.
Because Israel understands that cybersecurity solutions are the result of collaborative work, diversity isn't just celebrated - it's cultivated. Looking across disciplines to create teams of experts, Israel's cybersecurity forces continue to innovate new ways to stay ahead of rapidly advancing technology. It's not uncommon to find cybersecurity teams in Israel made up of experts from domains that range from legal and economic, to psychological and sociological. Professor Ben-Israel is known to emphasize that, no matter what your background or speciality is, you can become a cybersecurity expert.
This open-minded approach and willingness to create opportunities for collaboration is, again, why Israel is the world's best chance for maintaining security online. Because teams are able to see problems from a variety of angles, they are better equipped for actually tearing down artificial boundaries so they can actually tackle the problem. Rather than relegating cybersecurity to the tech savvy or scientific-minded, Israel keeps the doors open, allowing for creative cross-pollination and constant advancements.
Cultivating a Creative Approach to Cybersecurity
One of the advancements to come out of Israeli cybersecurity efforts is a shift in focus. Early on, cybersecurity would only look at stopping potential attacks and attackers, which meant that it was mainly solving from a reactive stance. Today, however, Israel's top cybersecurity teams are taking a more proactive approach, one that is comprehensive and future-focused. The majority of cybersecurity efforts in Israel today revolve around three foundational levels of strategy: robustness, resilience and defense. According to the nation's top cybersecurity experts, this updated strategy mitigates an impressive 95% of all threats.
To be robust, the government is responsible for educating others about the importance of cybersecurity, but it's up to private organizations to actually start building the infrastructure and preparing effective strategies. Resilience, on the other hand, requires a more active role from the Israeli government, including sharing information and providing analysis. The defense part of the latest efforts involves attribution of the attack and then actually pursuing the attacker.  
A unique philosophy, Israel's approach to cybersecurity weaves practical and theoretical tactics, proving once again the importance of bringing a variety of disciplines together and across public and private sectors.
The World's Best Source for Cybersecurity Talent
Israel's cybersecurity prowess is becoming more and more well-known around the world. As such, the country is attracting major multinationals, powerful research and development centers, venture capital firms, and other advanced research labs. With new talent emerging in the field every day, there's no doubt that Israel will continue to maintain its hold on the top position for cybersecurity efforts. In fact, it's likely that the nation will only increase its superiority, widening the gap between itself and other competing countries.
The beauty of Israel becoming the world's best cybersecurity authority is that it promotes the nation's philosophy for innovation: Bringing diverse people together in order to exchange ideas, debate, and create new opportunities - ones that will help its people, as well as the rest of the world.